---
---
The Friends of Oakwood Cemetery, the McDonough County Genealogical Society and the Western Illinois Museum will partner to celebrate the 100-year anniversary of Oakwood Cemetery's mausoleum.  
On Thursday, May 30th
At 6:00 pm, Western Illinois Museum will open its doors and the McDonough County Genealogical Society invites the public to tour their Research Center to learn more about their local holdings.
At 7:00 pm, McDonough County Genealogical Society's Board Member, Marla Vizdal, accompanied by WIU GIS Center's Director, Chad Sperry will speak about their partnership in documenting local cemeteries. Their recent work has made available a wealth of new information through electronic means. They will also discuss upcoming projects and how they will benefit the understanding of our local genealogy and history.
At 7:30 pm, their presentation will be followed  by a talk with Dr. John Hallwas entitled, The Meaning of Cemeteries and Macomb's Oakwood Cemetery. His presentation will delve into the circumstances that fostered customs of remembering the dead and showing respect through monuments, beautification, and community events.
The Western Illinois Museum is located at 201 S. Lafayette Street, one block south of historic downtown Macomb, Illinois. There is a suggested $5 donation for each program.  For more information, contact the museum at 309.837.2750 or info@wimuseum.org.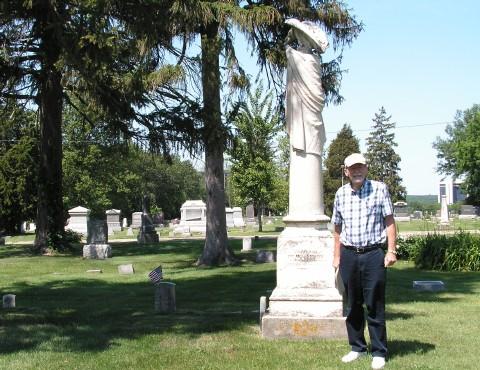 Tour of Macomb's Oakwood Cemetery
Tour Guide: Dr. John Hallwas and Gary Rhoads
Take a tour of Macomb's lovely Oakwood Cemetery with historian John Hallwas and sexton Gary Rhoads. Used for over 160 years as a place for remembrance and meaningful inner experience, the cemetery is also one of the most complex historic sites in the county, evoking fascinating stories, related to every era of local history. Highlighted on the tour will be the 100-year-old mausoleum, Oakwood Abbey. This is the 100th anniversary of the erection of that mausoleum. Prior to the tour coffee and donuts will be served. After the tour of the mausoleum, Dr. Hallwas will take the group on a walking tour featuring the military section of the cemetery adjacent to the mausoleum and a few of the military burials in the old part of the cemetery. (As it happens, if was 150 years ago that the people of Macomb celebrated their first Memorial Day.)
Tour is co-organized by Friends of Oakwood Cemetery, McDonough County Genealogical Society, Western Illinois Museum and the City of Macomb.
This tour will be held on Saturday, June 1, 2019, from 9:30 to 10:30 am.
The tour will meet at Oakwood Cemetry. Suggested $5 donation.
---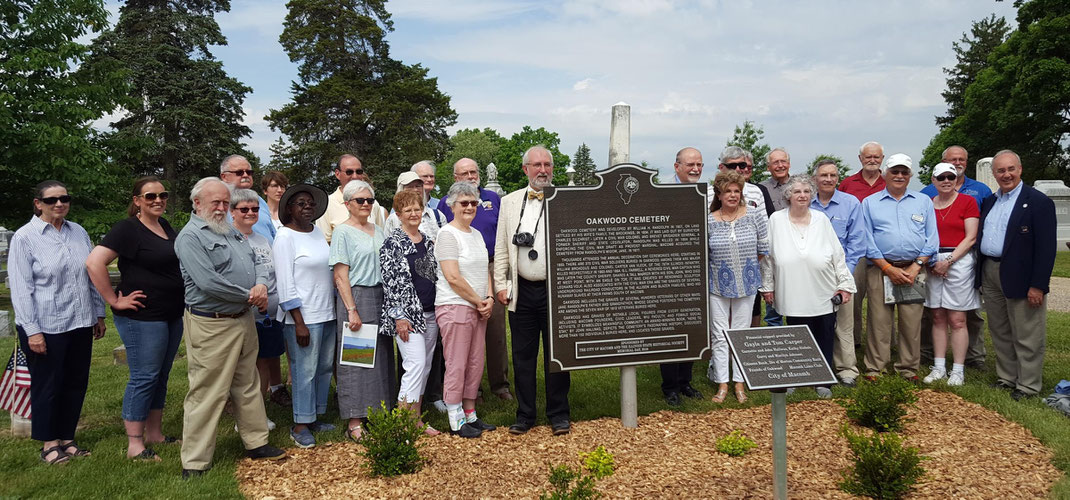 From McDonough County Voice newspaper
Macomb marks Oakwood Cemetery historic site recognition
MACOMB — The city's historic Oakwood Cemetery has received state historic site recognition after a number of years of planning and petitioning by Friends of Oakwood Cemetery. Friday morning a bronzed sign detailing the importance of the cemetery, along with a plaque commemorating key sponsors of the project, was unveiled at a site on North Randolph Street across from Cemetery Sexton Gary Rhoads' office.
The cemetery is notable for many reasons, although from the historical perspective the cemetery contains the graves of soldiers dating back to War of 1812 as well as the sites of two families who operated as Underground Railroad conductors — the Allisons and Blazers. The Allisons and Blazers helped bring over 200 slaves to freedom in the north.
Former Mayor Tom Carper noted the significance of the historical marker dedication occurring the year of the state's bicentennial, and recognized Rhoads for his work because the marker was well-placed in a location of reverence. 
Carper also praised Rhoads and cemetery crew members for their continued efforts to maintain the grounds and respect the monuments.
"Thanks to you and your crew...you do an unbelievable job," Carper said.
He also thanked Engraving by Lin for last-minute assistance with the marker.
Macomb Mayor Mike Inman said the entire process of receiving the historical designation and acquisition and placement of the marker has been a "collaborative effort."
"We here in Macomb appreciate the heritage that we have in this community," he said. "This is one of those additional sentiments of that." 
As noted by local historian and professor emeritus John Hallwas at the ceremony, there are 270 Civil War veterans buried at Oakwood, along with War of 1812 veterans and those from major wars leading up to present day.
"As so many people realize, recognizing and appreciating historic sites is an important means of fostering community," Hallwas said. 
"And that's especially crucial today, when the sense of community is fading in so many places — and thus, lack of belonging is also on the rise."
When referencing the number of Civil War veterans at the cemetery, Hallwas said: "No other small-town cemetery in our region has more than 270 Civil War veterans buried in it. Why? Why did so many men who saved our country from both slavery and disunity want to be buried here? Because Macomb's profound sense of community was opposed to forgetfulness — especially of such military heroes. And for decades, we had the most elaborate, popular Decoration Day ceremony of any town in the region — and I've checked on that. A town of 2,000 people in the 19th century, Macomb often had 6,000 people here for the Decoration Day ceremony..."
Hallwas — who recently received the Illinois State Historical Society's Lifetime Achievement Award — recognized former Macomb Mayor Tom Carper and his wife, City Alderwoman Gayle Carper for their taking the lead in financing the cost of the sign. Other financial supporters include Hallwas and his wife, Garnette; Kathy Nichols, Garry and Marilyn Johnson, Citizens Bank, Friends of Oakwood, Macomb Lions Club and City of Macomb. 
Illinois State Historical Society Executive Director William Furry said cemeteries are "cities of the dead." He also noted the Macomb marker dedication is the first of five the historical society will conduct this year.
For Furry, the idea behind a historical marker is "community activism." "Letting people know what their history is and getting them to be inspired by their local history. Acts of putting historical markers up brings community together, and use it as a focal point for doing programs for students and for seniors and any tourists who come through. You want to focus on it. Bring it here, and give them something to look at and interpret."
Furry also said history is something that brings communities together worldwide, whether it's a cemetery or a historic building for examples. "These things are what ties communities together and gives them stories to tell. There are so many stories here and stories yet to come that haven't been told yet. That's where the inspiration is...so they can draw inspiration from this..." For Oakwood Cemetery, Furry said it's not just the historic nature of the area, but the fact that it is considered hallowed ground.
"That's why Black Hawk came back to Illinois in 1832...It's where his ancestors were...It's not about development...This is a site where stories can be told. And we need people to tell those stories to future generations."
According to the Illinois State Historical Society's website: "The Illinois State Historical Society was founded in 1899 to support the Illinois State Historical Library and to encourage research and writing on subjects of Illinois history. Though independent of the State of Illinois and the Historical Library since 1997, the Illinois State Historical Society continues to actively promote the study of Illinois history. The Society encourages everyone from University scholars to local historians to take an active part in Illinois history. The Society is a not-for-profit organization which depends solely on membership dues, gifts, bequests, and foundation grants to support, preserve, and disseminate the story of Illinois and its people.
The mission of the Society is to foster awareness, understanding, research, preservation, and recognition of history in Illinois.
More information about the Illinois State Historical Society can be found online at: http://www.historyillinois.org
---
Oakwood Cemetery historical marker dedication ceremony, May 25 2018
---
From Tri-States Public Radio
State Honors Oakwood Cemetery in Macomb
Macomb started Memorial Day weekend by unveiling a bronze sign at Oakwood Cemetery.   The marker was installed to celebrate the burial ground's designation as a state historic site.  It summarizes Oakwood's founding and history.
Listen Listening...0:59 The radio story
"You obviously take great pride in this cemetery and for great reasons. You have so many wonderful markers here," William Furry said during the unveiling ceremony.  He is Executive Director of the Illinois State Historical Society.
"I hope you make it part of your community and the younger generation. That's so important for what you want to do for your community."
He called cemeteries "cities of the dead."  After the ceremony, Furry told reporters that Oakwood and other cemeteries are hallowed grounds that tie communities together.
"It's a site where stories can be told and communities can be drawn in and tell those stories to the next generation," he said.
Western Illinois University Professor Emeritus John Hallwas used his speech during the ceremony to call Oakwood a meaningful historic site.
"(It) includes the presence of graves from every single generation of Macomb's residents," he said. "The cemetery is symbolic of meaningful community through time."
---
SPECIAL NEWS ITEM
The McDonough County Voice
Oakwood Friends seek landmark status
Posted Sep 29, 2016 at 11:48 AM
By Patrick Stout- Voice Correspondent
MACOMB — The city's historic preservation commission held the first of two scheduled public hearings Tuesday on a application from Friends of Oakwood Cemetery for the burial ground to be designated as a local landmark. City Attorney Kristen Petrie told commissioners that many cemeteries in the state have been designated as landmarks.
Petrie said a city ordinance would have to be approved to make such a designation.
"A cemetery is a single property," she said. "You don't count each plot separately."
Kathy Nichols of the friends group spoke of the historical significance of many of the persons buried at Oakwood. Commission Vice-Chairman Allen Nemec said he would also like to know more about historic structures within the cemetery and the layout of its original entrance.
Deputy Community Development Coordinator Mitch Flynn said he would like to see such historic detail included in the application. "I love the project," Commission Chairman Dennis Danowski said of the Oakwood Friends' effort.
Petrie cautioned that the commission has no jurisdiction over the appearance of individual gravesites. "The design is a family choice and nothing can be dictated by the commission," she said.
Commissioners voted to resume discussion of the Friends of Oakwood Cemetery application at their Oct. 25 meeting.
In other business, Nemec reported that he and Danowski are scheduled to discuss plans for a Macomb Historic Homes recognition program with city aldermen on Oct. 10. Petrie said the program would later be formally submitted to the city council for adoption by resolution.
Commissioner Sue Scott reported that the remains of two pillars that sat in front of the historic Randolph House hotel downtown would be returned to their original location in front of the building. They had been removed during store renovations within the building.
Two weeks ago, Scott said she had been informed that construction workers were told that they could throw the pillar remains away. She and another local historian met with project workers and told them the pillars could not be removed without city permission.
Macomb's downtown square is a designated historic district, and all external structures are under the jurisdiction of state and city historic preservation authorities.
Reach Patrick Stout by email at pstout@McDonoughVoice.com.
---
from the McDonough County Voice newspaper, July 1, 2014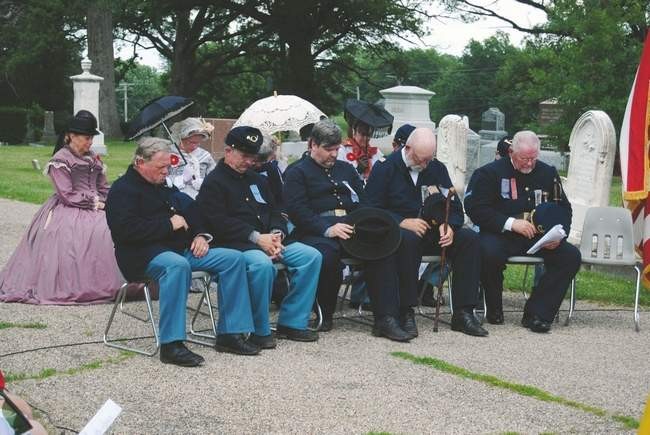 ---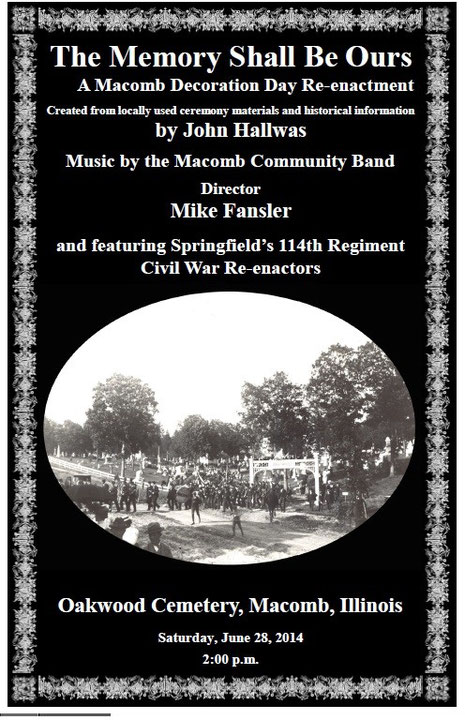 From 2014:
On June 28, at 2:00, as part of this year's Heritage Days event, focused on "Macomb's Military Heritage," there will be a re-enactment of a typical 19th-century Decoration Day ceremony in Oakwood Cemetery. Titled "The Memory Shall be Ours," the script was created by John Hallwas, based on 19th-century GAR manuals and local newspaper accounts of those Civil War remembrance ceremonies. The re-enactment will feature the Macomb Band, under the direction of Michael Fansler, which will play a variety of Civil War songs. Also, the 114th Regiment, reactivated, a noted Civil War soldier re-enactment group from Springfield, will be performing the roles once filled generations ago by local Civil War veterans: posting the flag, speaking about soldiers, and decorating selected soldier graves. In the 19th century, this was Macomb's largest participatory event, which often drew several thousand people to Oakwood Cemetery. The re-enactment will be filmed by WIU Television, with director Roger Kent in charge of the taping, editing, and creation of the film. It is planned to make this re-enactment available on local TV, especially during the Memorial Day holiday each spring. The re-enactment, which is largely a Civil War music concert, is free to the public on the Saturday of Heritage Days.
The Memory Shall Be Ours Program
The Memory Shall Be Ours Program 2014.pd
Adobe Acrobat Document
458.2 KB
---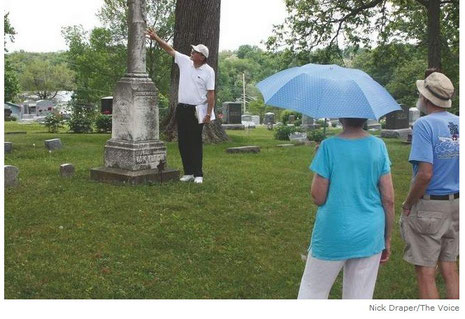 Macomb's military

heritage focus of

cemetery tour
from the McDonough County Voice
By Nick Draper
Staff Reporter 
Posted May. 27, 2014 @ 10:18 am 
MACOMB
 Oakwood Cemetery houses the graves of men that fought in many of the nation's wars, including hundreds that served in the Civil War.
The Macomb's Military Heritage Tour at Oakwood, sponsored by the Friends of Oakwood Cemetery, provided some insight by author and historian John Hallwas into the stories of the cemetery's residents.
Memorial Day, or Decoration Day as it was known during the Civil War, has always been a large part of Macomb as the city celebrated its veterans heavily throughout its history, Hallwas said.
"It wasn't just civil war guys," he explained. "(It was) earlier wars too and, of course, later wars. That started after the Civil War with the whole sea change that came in about the way we should honor and remember our soldiers."
Macomb has seen its share of servicemen, with many of the large movers and shakers throughout its history having been in the military in some form. This includes C.V. Chandler, the richest man in the county and the one who personally paid for the statue in Chandler park.
This also includes W.H. Hainline who ran the Macomb Journal and former president of Western Illinois University Alfred Bayliss.
Illinois University Alfred Bayliss.
These veterans made sure that the dead were celebrated in a proper way each Decoration Day, Hallwas said.
"You had 2,500 people in the town in 1870, 1880, 1890," Hallwas said. "We had 5,000 on Decoration Day, double the population of the town was out here on Decoration Day and it was because these guys made it happen."
People would come in from all over the county, and from other counties, to Macomb and would have a war hero give a speech. People would line up as far as the eye could see, Hallwas said.
The headstones of veterans, each adorned with a flag, included those who had served in many different wars. One stone, the stone of Francis D. Lipe, is adorned with the odd "Cherokee War."
The Cherokee War was actually the removal of Cherokees by Andrew Jackson, known as the famous Trail of Tears, where the Cherokee Indians were removed from their lands and driven into "Indian Territory," now known as Oklahoma.
Another interesting stone was the stone of Colonel Carter Van Vlec, whom had fought in the battle of Chickamauga and was wounded.
"He should have really went home and stayed there," Hallwas said. "His arm was in a sling. But as soon as he possibly could get back in the service, after a period of a couple months he did so."
Read more: http://www.mcdonoughvoice.com/article/20140527/News/140529407#ixzz33RNYD89t
---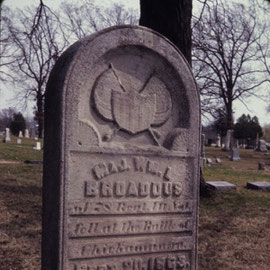 Friends of Oakwood Cemetery
Cemetery Walks
Memorial Day,
Monday, May 26, 2014
10:00a.m.  - 11:30 a.m
1:00 p.m. - 2:30 p.m
The walks will be led by local historian John Hallwas and will highlight the gravesites of veterans
Proceeds will be used for the preservation and beautification of Oakwood Cemetery
---